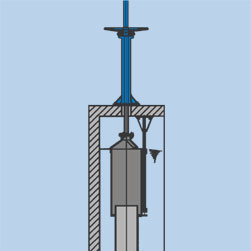 VT – TELESCOPIC VALVE.
Round port VT telescopic valve with flanged connection to pipe lines.
This design allows water flow control, placing obturator in height
Mainly used for the
following applications in:
wastewater treatment plants

hydraulic systems where the level should be regulated.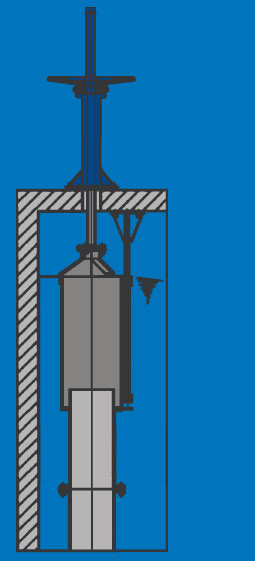 General characteristics
Telescopic valve type VT, seal all round port and obturator with LINEAR sliding system.
Fabricated and mounted on drilled flange pipe line according to DIN PN10.
Different construction materials and sealing by means of elastomer joint.

Standard manufacture dimensions DN 200 through DN 500 mm. Other dimensions, upon request.
Standard body length is equal to three times the diameter of the valve. Other dimensions, upon request.
CONSTRUCTION MATERIALS
Body
Obturator
Sealing
Spindle
Extensions
Guide support
304 Aisi Stainless Steel
304 Aisi Stainless Steel
EPDM
303 Aisi
304 Aisi
304 Aisi
316 Aisi Stainless Steel
316 Aisi Stainless Steel
EPDM
303 Aisi
316 Aisi
316 Aisi
Other materials such as DUPLEX, AISI 904L and so on can be manufactured on request.
ACTUATOR
Manuals
Automatics
RISING SPINDLE HANDWHEEL
ELECTRIC SERVOMOTOR
NON-RISING SPINDLE HANDWHEEL
PNEUMATIC CYLINDER
RISING SPINDLE REDUCER
HYDRAULIC CYLINDER
NON-RISING SPINDLE REDUCER
Actuators can be placed directly either on upper frame or with extension systems and column at specified heights.

Other types of actuators upon request.