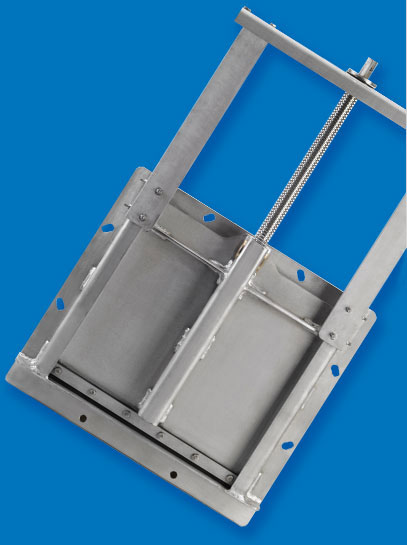 CM WALL PENSTOCK
Sealed on all 4 sides to be wall-mounted in order to control the flow.
Mainly used for the following applications in:
wastewater treatment plants

drain manifolds

urban small chest

storm tanks

desalination installations

irrigation installations or any other type of hydraulic work where the flow has to be controlled.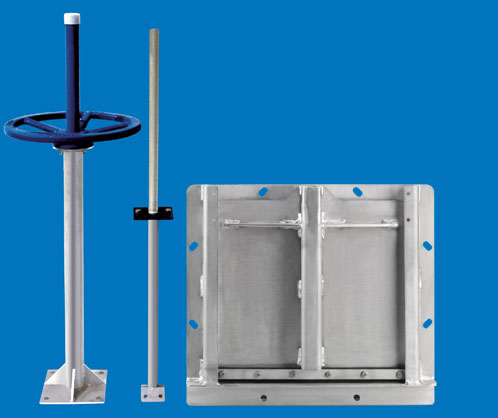 General characteristics
Fabricated square or rectangular port wall penstock sealed on all 4 sides, modulate design so that the frame can be used for on-off. Available in different construction materials, with elastic profile sealing and a guided system by means of sliders to reduce rate of friction.
Standard manufacture dimensions from 200 x 200 up to 2000 x 2000 mm. Other dimensions upon request.
CONSTRUCTION MATERIALS
Frame
Gate
Seal
Spindle
Extensions
Sliders
Guide support
304 Aisi Stainless Steel
304 Aisi Stainless Steel
EPDM
303 Aisi
304 Aisi
Polyethylene
304 Aisi
316 Aisi Stainless Steel
316 Aisi Stainless Steel
EPDM
303 Aisi
316 Aisi
Polyethylene
316 Aisi
ST37 Carbon Steel
ST37 Carbon Steel
EPDM
303Aisi
304 Aisi
Polyethylene
304 Aisi
Other materials such as DUPLEX, AISI 904L and so on can be manufactured on request.
ACTUATOR
Manuals
Automatics
RISING SPINDLE HANDWHEEL
ELECTRIC SERVOMOTOR
NON-RISING SPINDLE HANDWHEEL
PNEUMATIC CYLINDER
RISING SPINDLE REDUCER
HYDRAULIC CYLINDER
NON-RISING SPINDLE REDUCER
Actuators can be placed directly either on upper frame or with extension systems and column at specified heights.

Other types of actuators upon request.
WORKING CONDITIONS
Sizes
Immerged side assembly
Dry side
assembly
200-1200
10 mWc
5 mWc
1300-2000
5 mWc
0 mWc
OTHER PRESSURES OR BIDIRECTIONAL FLUID APPLICATIONS UPON REQUEST.
According to the American and European Standards.
AWWAC561-04 - 1.24 l/min per seal linear meter.
Din 19569-4 Class 5 - 0.02 l/sec. per seal linear meter.
RISING SPINDLE TYPE
NON-RISING SPINDLE TYPE

Outside spindle is not in contact with the fluid.
Standard open frame
Optional closed frame

Outside spindle in contact with the fluid of the process.
Closed frame design.
Actuator by means of square device mounted on upper bridge.